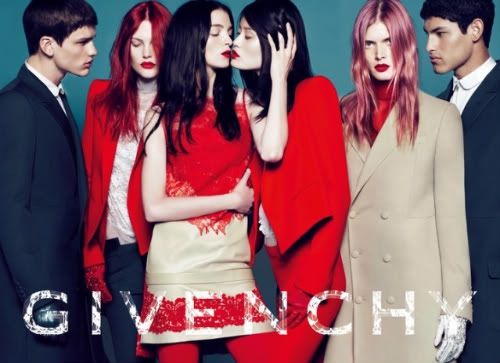 - A fantastic new food and fashion blog,
Pumps and Rye
. They have such a considered aesthetic, and some pretty amazing shoe choices.
-
Green olive, walnut and pomegranate salad
, a salad you could in fact win friends with. Hands down one of the most interesting and delicious things I have ever eaten. I had it with fried haloumi on the side too, also incredibly delicious.
-
DIY Miu Miu collar
. Pretty amazing.
- An interesting article from the Wall Street Journal which addresses a very interesting and pertinent question,
Does the Internet make you smarter?
- My favourite of all favourite Buffy-related internet posts,
The colours of BtVS
.
- Also Buffy related, new blog
The Whedoning
tracks a fellow Whedonophile's rewatch of all Joss' shows consecutively. Hating myself for not thinking of this idea sooner!
[image from the new Givenchy campaign - so stunning]