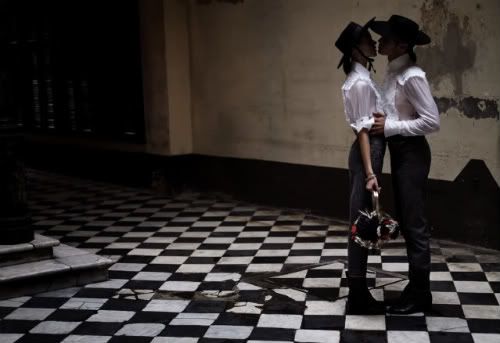 Apologies for the slow-down in posting lately, I've been so busy with work and going crazy with no time to myself. I'm heading overseas this Friday (!!!) which will be such a needed break and lots of fun. I'm taking my computer so hopefully free time will equal more posts! Enjoy these links today and I plan on posting about Paris Fashion Week sometime before Friday (I'm pretty much a month late, how hopeless).
- Love of my life Tori Amos looking incredible in a photoshoot for the first time in years,
here
.
-
90s Woman
, a site I have spent so many hours on reading about (I won't say reliving, I was under the age of ten for the whole of the nineties!) nineties women's issues brought into the present. Among the most popular tags on the site are 'feminism' and 'Lady GaGa' so it pretty much ticks all my boxes.
- One of the best interviews I have ever read,
Vice Magazine/Karl Lagerfeld
.
- An extensive collection of very confronting advertisements
here
.
[image from Chanel's Spring/Summer 2010 campaign]